4D
interactive
without words
Sit comfortably, our amazing performance is just beginning!
The Black Light Theatre Wow Show – the best interactive show in Prague.
Welcome to a magical wordless world. A world which will tell you a bewitching story, which is about every one of us. A once-in-a-lifetime experience full of enchantment and surprising effects.
Come and relax, and have fun in a fairytale world.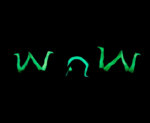 Fascinating spectacle
When watching the story, every viewer will start dreaming and looking into the corners of their own heart. The visually rich presentation will open a magical dream world before you. Be witness to a spectacle during which our hero saves a child imprisoned in a spiderweb of fear. He overcomes the traps thanks to the power of the gifts he receives during his journey. But don't worry, not even your children will be afraid – they will be enthused and amazed.
Visually attractive theatre show
designed for the entire family